(THIS ARTICLE IS COURTESY OF THE GUARDIAN NEWS)
US government to give citizens emergency financial aid
White House prepares to send direct payments to Americans as part of stimulus package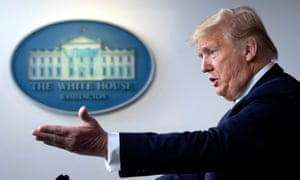 Donald Trump has dramatically stepped up the US government's response to the coronavirus outbreak by announcing plans to send cheques directly to American citizens to give them emergency financial aid, while agreeing to purchase up to $1tn (£830bn) of corporate bonds.
The White House said it was preparing to send the payments to Americans within two weeks as part of a vast stimulus package to shore-up confidence in the world's largest economy as the efforts to contain the disease threaten a global recession.
At a special briefing in Washington, the the US Treasury secretary, Steve Mnuchin, said: "This is stuff that needs to be done now. The president has instructed me, this is no fault to American workers, for medical reasons we're shutting down."
Speaking after the Republican senator, Mitt Romney, proposed sending $1,000 cheques, Mnuchin said the value of the payments would be "bigger than what's in the press".
The handouts are part of a wider $850bn stimulus package the Trump administration is negotiating with Congress. The bank bailout package agreed at the time of the financial crisis – known as Tarp – was worth $700bn.
The US Federal Reserve will also invest $10bn to a special purpose vehicle to provide guarantees that the central bank would purchase up to $1tn of US corporate bonds if required, aiming to smooth the financial markets after weeks of turmoil.
Mnuchin also said the White House planned to allow individual taxpayers to defer payments of up to $1m and for companies of up to $10m, in steps that could cost the government as much as $300bn.
Speaking alongside Mnuchin at the press conference, Trump said: "We're going big. We want to get it done and have a big infusion as opposed to going through little meetings every couple of days.
"We want to go big – we want to go solid. The country's strong. With this invisible enemy, we don't want airlines going out of business or people not having jobs and being able to live, when they were doing OK four weeks ago."
"We have ways of getting out money in many ways, very quickly and very actively."
Since you're here…
… we're asking readers to support open, independent journalism. Reliable, fact-based information and calm, empirical reporting has never been more important. Partisan politics are warping the conversation, getting in the way of public health and global security. At this time of uncertainty, the Guardian is sifting through the noise and chaos in order to give our readers the critical stories and information they need from dozens of our correspondents all over the world.
You've read 26 articles in the last four months. More people than ever before are reading and supporting our journalism, in more than 180 countries around the world. And this is only possible because we made a different choice: to keep our reporting open for all, regardless of where they live or what they can afford to pay.
We have upheld our editorial independence in the face of the disintegration of traditional media – with social platforms giving rise to misinformation, the seemingly unstoppable rise of big tech and independent voices being squashed by commercial ownership. The Guardian's independence means we can set our own agenda and voice our own opinions. Our journalism is free from commercial and political bias – never influenced by billionaire owners or shareholders. This makes us different. It means we can challenge the powerful without fear and give a voice to those less heard.
None of this would have been attainable without our readers' generosity – your financial support has meant we can keep investigating, disentangling and interrogating. It has protected our independence, which has never been so critical. We are so grateful.
We hope you will consider supporting us today. We need your support to keep delivering quality journalism that's open and independent. Every reader contribution, however big or small, is so valuable. Support the Guardian from as little as $1 – and it only takes a minute. Thank you.