(THIS ARTICLE IS COURTESY OF SHANGHAI CHINA'S 'SHINE' NEWS NETWORK)
Walking and admiring downtown historic streets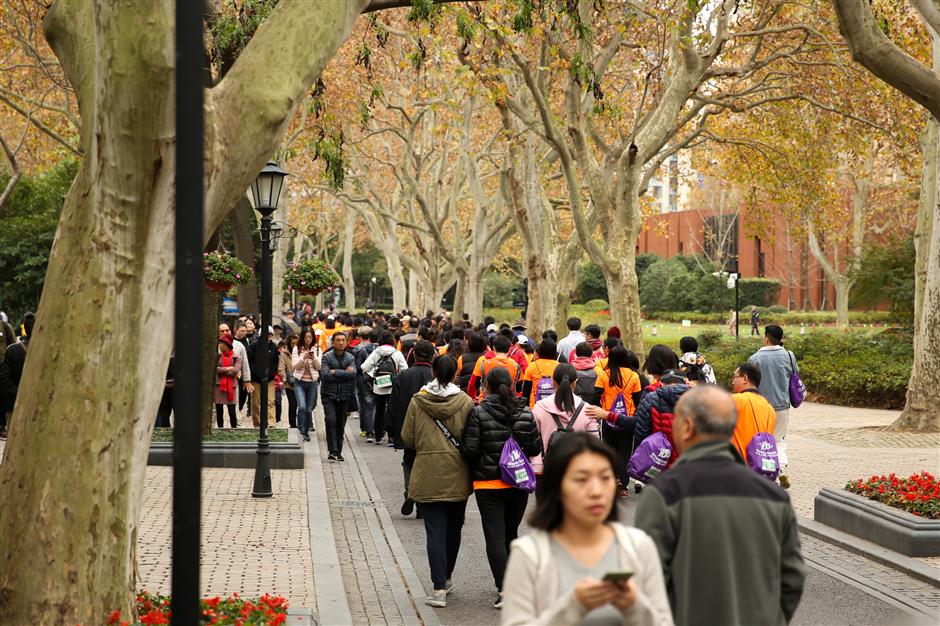 Ti Gong
About 1,000 citizens took part in a walking event on Saturday to visit historical streets and buildings along a 15 km route in Changning District.
Participants set off from Zhongshan Park in early morning and walked along the newly opened waterfront of Suzhou Creek near the East China University of Political Science and Law.
They were then guided to visit the historical Xinhua and Yuyuan roads along with the garden villas and former residences of celebrities on both roads.
The organizer of the micro-tourism event encouraged participants to pose with the historic buildings and scan the QR codes on each of the structures to learn their history and stories.
The route has been well designed to include the newly opened riverside attractions, old-time villas and historic sites related to the history of Shanghai and Communist Party of China, according to the organizer.
Over 20 heritage sites are open to the public in Changning where early CPC members and reformists carried out secret activities. They include an exhibition hall about revolutionary history in Changning on Yuyuan Road, which once served as the editorial department for an early key CPC publication titled Bolshevik.
People can also visit the former residences of missile and space scientist Qian Xuesen (1911-2009), writer, translator and scholar Shi Zhecun (1905-2003) as well as New Zealand-born writer Rewi Alley (1897-1987), who came to Shanghai in 1927 and was later involved in China's revolution and reconstruction, in the tour.
The 1.5 kilometers of Xinhua Road between Huaihai Road W. and Yan'an Road W., built in 1925, also features a dozen heritage villas and former homes of dignitaries, such as American missionary Gilbert Reid.
A visit to the Columbia Circle compound is recommended to the participants. The site, owned by the Shanghai Institute of Biological Products on Yan'an Road W. near Panyu Road, has been converted into a complex with offices and shopping. Three historical structures — Columbia Country Club, the Navy Club and a villa built for Dr Sun Yat-sen's son Sun Ke — are being preserved.
The event is part of a 100 km walking event in Shanghai this year. Similar walking activities have been held in other districts and will be organized across the city.
Ti Gong
Ti Gong
Source: SHINE   Editor: Cai Wenjun