(THIS ARTICLE IS COURTESY OF EQUITIES.COM NEWS)
​Naloxone Stocks: Who's Really Winning the Battle Against the Opioid Epidemic?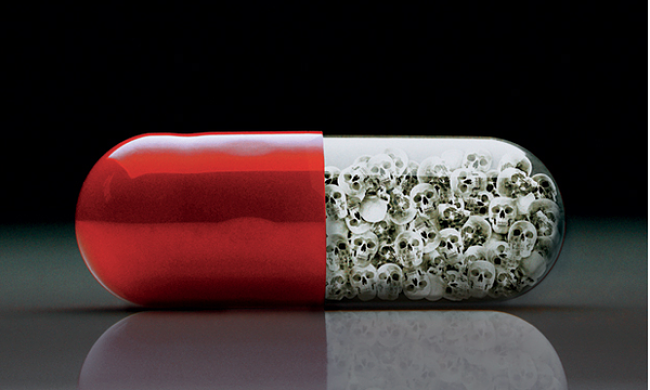 Despite wider recognition in recent years of the pervasive opioid epidemic spreading throughout the US, death rates from prescription drug overdoses have continued to skyrocket. Deaths from heroin and opioid painkiller overdoses have more than quadrupled since the start of the millennium and have now surpassed car accidents as the leading cause of accidental deaths in the country. But while admission of a problem is the first step to recovery, identifying and eventually addressing the numerous factors that led to this point will still take years, if not decades, to repair.
Until then, over 125 people are dying each day on average from drug overdoses—well over half of which are from heroin or prescription painkillers like hydrocodone (e.g., Vicodin), oxycodone (e.g., OxyContin, Percocet), morphine (e.g., Kadian, Avinza), codeine, and related drugs. It's a frightening statistic, and government and health officials around the country have been desperate for something to help them get a handle on the spiraling epidemic. That's a primary reason for the exploding interest in Naloxone, a life-saving drug that counters opioid effects, including reversing overdoses.
On Monday, Walgreens (WBA) announced that it is making Naloxone, a medication that counters opioid overdose, available in more than 110 of its pharmacies in Alabama without a prescription. The rollout is part of Walgreens' nationwide plan announced in February to make Naloxone available without a prescription in 35 states and Washington DC. Thus far, New York, Rhode Island, Massachusetts, Indiana, Ohio, Pennsylvania and now Alabama have expanded access to the medication. The program is expected to expand Naloxone availability to 5,800 of Walgreens' 8,500 locations in the US. CVS (CVS) is also rolling out the drug in 14 states as well.
Pennsylvania, meanwhile, also made news recently when health officials introduced a plan to make Naloxone available at all of its high schools. Drug overdoses accounted for 2,000 deaths in the state last year.
The Race to Make Naloxone a Household Drug
Approved by the FDA in 1971, Naloxone is a generic drug that has actually been around for decades. It was used primarily in hospitals and by paramedics, but in recent years, higher demand for first responders and police officers to have the medication kits on hand has driven up the price of the drugfrom only $1 as recently as a decade ago to over $40 today. While the drug has been increasingly heralded by government and health officials as a biotech wonder drug and critical weapon against the growing epidemic in recent years, the outcry over aggressive price hikes has also been getting louder.
---
---
Now, with Naloxone becoming readily available over the counter across the US, demand is only going to increase, especially if consumers are being told they need to keep the medication handy in case of an emergency situation, however improbable that may be.
In November 2015, Adapt Pharma Ltd.'s NARCAN Nasal Spray formulation was approved by the FDA, opening the naloxone market up to the OTC market. The NARCAN Nasal Spray is based on the intranasal opioid antagonist platform technology of Opiant Pharmaceuticals, Inc. (OPNT)—which changed its name in February from Lightlake Therapeutics. In March, Opiant received a $2.5 million milestone payment from Adapt following the first commercial sale of the NARCAN Nasal Spray. Under the licensing deal, which was signed in December 2014, Opiant could receive total potential milestone payments of more than $55 million, and up to double-digit percentage royalties on net sales.
Suddenly, a Rapidly Crowding Market
But Adapt isn't the only game in town. Hospira (a subsidiary of Pfizer [PFE]) and Amphastar Pharmaceuticals (AMPH) have been the leading providers of injectable naloxone for years, and the principle drivers of the price hikes.
Amphastar has also been selling an intranasal application, which administers its injectable formulation with an atomizer, for some time now. The company has also said it's working on a naloxone nasal spray. In 2015, naloxone sales accounted for $38.6 million of the company's $251.5 million in annual revenue, but was its fastest-growing segment with increased volume and higher average prices.
Another competitor, Kaleo Pharmaceuticals, is selling a naloxone auto-injector called Evzio at a considerably higher price of about $700-$800 per dose. Biotech giant Mylan (MYL) also sells a naloxone injectable formulation after obtaining FDA approval in 2014. Embattled INSYS Therapeutics (INSY)—which has seen its stock price collapse in the past year as a result of backlash to its opioid-based painkiller Subsys Fentanyl—also got its naloxone candidate designated on the fast track by the FDA.
More Price Hikes to Come?
For all the life-saving benefits of naloxone, it's important to remember that, at best, it's just a stop-gap solution to treat a symptom—albeit an incredibly significant one—rather than a cure for a condition. Critics of wider naloxone availability point to the possibility that expanded access creates a moral hazard and doesn't address the crux of the problem—which is the actual opioid addiction. But again, that is a systemic problem that will take years, if not decades, to resolve.
In the meantime, pharma companies know they have yet another life-saving drug in their pipeline and the means to leverage it for more dollars from willing buyers. But one of the key advantages that companies like Hospira and Amphastar had a few years ago was that they owned an essential monopoly on the naloxone market—largely due to competitors leaving the space over time and thus reducing price competition. But as the field continues to get more crowded over time again, the window to maximize profits could be beginning to close. It's just a matter of supply and demand at this point.
DISCLOSURE: The views and opinions expressed in this article are those of the authors, and do not represent the views of equities.com. Readers should not consider statements made by the author as formal recommendations and should consult their financial advisor before making any investment decisions. To read our full disclosure, please go to: http://www.equities.com/disclaimer
Companies