(THIS ARTICLE IS COURTESY OF NEWSWEEK)
AS TROPICAL STORM DORIAN HEADS FOR U.S., TRUMP DRAINS MILLIONS FROM FEMA'S DISASTER RELIEF FUND
As Tropical Storm Dorian strengthened and continued towards the United States on Tuesday, President Donald Trump decided to pull millions of dollars from the Department of Homeland Security (DHS) including a disaster relief fund, to boost resources to migrant detention at the southern border.
The Trump administration pulled $271 million from DHS including from the Federal Emergency Management Agency (FEMA) Disaster Relief Fund, according to department officials and a letter California Representative Lucille Roybal-Allard sent to DHS and obtained by NBC News Tuesday.
According to the letter, $155 million would move from FEMA's disaster relief fund to DHS's U.S. Immigration and Customs Enforcement (ICE), for more migrant detention space and temporary hearing sites for people seeking asylum. The shift of funds would reportedly allow ICE to hold close to 50,000 migrants at a given time.
Trump's decision came as Tropical Storm Dorian, potentially strengthening into a Category 1 hurricane, approached Puerto Rico, leading the U.S. territory to declare a state of emergency. Dorian could hit Puerto Rico by Wednesday afternoon, reach the Bahamas by Friday, and southwestern Florida by Sunday, forecasters predict.
Officials in Puerto Rico said Monday they declared a state of emergency in order to coordinate with FEMA for resources.
On Tuesday afternoon, Trump acknowledged Dorian and touted past relief to Puerto Rico, which was devastated by Hurricane Maria in 2017, but did not mention his new drainage of FEMA funds.
"Wow! Yet another big storm heading to Puerto Rico. Will it ever end?" Trump tweeted. "Congress approved 92 Billion Dollars for Puerto Rico last year, an all time record of its kind for 'anywhere.'"
Trump's tweet about $92 billion in aid to Puerto Rico was misleading — that amount is an estimate of what could be provided to Puerto Rico through the next 20 years. The island has received $12.6 billion as of May, while the Trump administration has allocated $42.3 billion, according to the Center for a New Economy.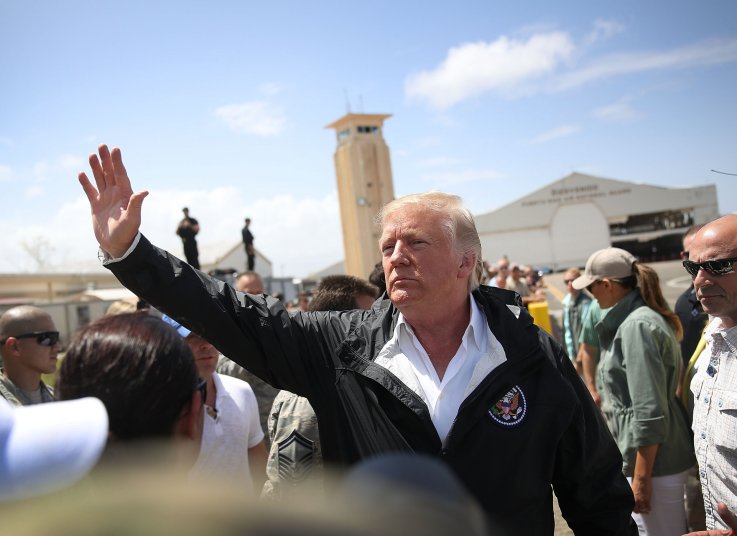 Congress received a notification, not a request, from the Trump administration to shift funds away from FEMA to ICE because the administration thinks it is entitled to do so after Congress refused to approve more funding for detention beds in an emergency funding border bill two months ago, according to NBC News.
DHS would be able to pay for about 6,800 more migrant detainee beds while losing $116 million previously marked for aviation security and the Coast Guard, among other programs.
Trump was widely criticized for a lack of urgency and organization in his response to Hurricane Maria's destruction in Puerto Rico.