(THIS ARTICLE IS COURTESY OF THE GUARDIAN AND OF THE GOOGLE PLUS WEBSITE OF ANDY TAI)
The Guardian view on China's spreading influence: look in the gift horse's mouth
There is growing concern about Beijing's attempts to shape the thinking of politicians and the public overseas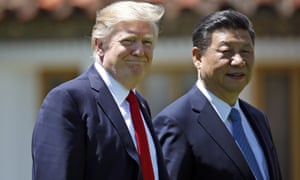 The arrest of a former CIA agent this week is the stuff of a classic murky spy tale. Though he is charged with unlawfully retaining national defence information, the US reportedly suspects that he leaked the names of informants. An earlier report alleged that China imprisoned or killed multiple US sources between 2010 and 2012. Both countries have plans for tackling espionage. But analysts, intelligence agencies and politicians are now debating how to handle the subtler challenge of Chinese influence activities: a "magic weapon" neither cloak-and-dagger nor transparent.
China says it does not interfere in other countries' domestic affairs. Yet all nations seek to sway foreign governments and citizens towards their own priorities, interests and perspectives. The question is how they do so, and how far they go. (No one should pretend that western nations always act above board.)
China's influence work is strategic and multifaceted. Some of it is distinctive mainly for lavish resourcing. The National Endowment for Democracy recently described other aspects as "sharp power": the effort by authoritarian states not just to attract support but to determine and control attitudes abroad. It seeks to "guide" the diaspora and enlist it for political activity. It embraces foreigners, appointing those with political influence to high-profile roles in Chinese companies. Chinese-language media overseas have been bought by entrepreneurs with ties to Beijing. Partnerships with universities shape research and limit debate.
Last month, Australia's prime minister, Malcolm Turnbull, introduced a bill banning foreign donations as he warned of "unprecedented and increasingly sophisticated" attempts to influence politics. It follows a senator's resignation after allegations that he tipped off a Chinese donor that his phone was probably tapped by security agencies; the case has reportedly prompted the Trump administration to open an investigation into Beijing's covert influence operations in the US. In New Zealand, a Chinese-born MP denied being a spy after it emerged that he had spent years at top Chinese military colleges. A leading scholar on China has alleged that its "covert, corrupting and coercive political influence activities in New Zealand are now at a critical level".
Chinese state media has complained of "hysterical paranoia" with racist undertones in Australia. In an era of populism, there is good reason to worry that members of the diaspora, in particular, could face unfair suspicion. Citizens have the right to listen to the views of a foreign government, be persuaded and share them. But to speak for them, on their order, is different. Is someone acting spontaneously, or have they been prodded, coerced or bought? What links or leverage does Beijing enjoy? Establishing the answers is hard – and proving self-censorship even tougher. But it is essential to at least attempt to distinguish between legitimate, improper and illegal activities.
Casting light on the issue is by far the most important step. Democracies must delve into areas that may prove embarrassing. They need the capability to do so – starting with language skills. Working together would help. In places, laws may need to be tightened, though with care: banning foreign political donations is a basic step. For this issue says as much about the west as China. Beijing's keenness to control speech is manifest, while influential figures and institutions in democracies proclaim lofty ideals – then fall prey to gullibility or greed. China's influence would not go very far without the western hunger for its cash.