(THIS ARTICLE IS COURTESY OF THE WASHINGTON TIMES)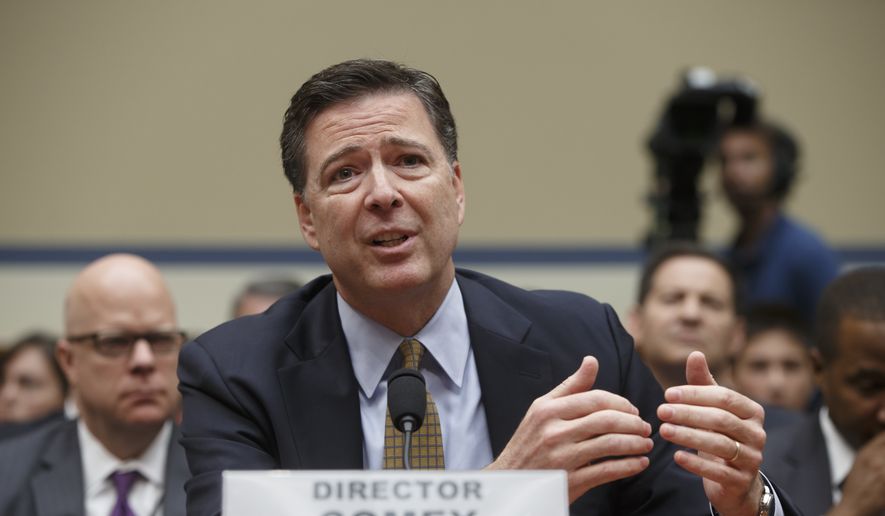 By Kelly Riddell
– The Washington Times – Monday, November 7, 2016
ANALYSIS/OPINION:
Last year, the State Department said it would need about one year to comb through and release Hillary Clinton's 30,000 emails, or the 55,000 work-related pages she handed over in March 2015. Yet, we're to believe the FBI can evaluate roughly 650,000 emails in just eight days.
Either the FBI is incredibly efficient or — more likely — partisan politics has corrupted two departments in our executive branch.
In May 2015, the State Department said it would need until January 2016 to release all of Mrs. Clinton's emails, which were stored on her private email server while she served as secretary of state. They proposed a date of Jan. 15, 2016, to go over all of the classifications, but were shot down by a U.S. District Court judge which suggested a rolling release.
The State Department did its best to slow-roll the process. When Jan. 15, 2016, came around, it asked for a one-month extension to release the emails because of "inclement weather." The delay would ensure the releases were after the presidential primary.
An FBI probe into how the State Department dealt with Mrs. Clinton's email review revealed how it had a "shadow government" working within State, specifically tasked with handling — and perhaps obstructing — the release of Mrs. Clinton's emails.
"There was a powerful group of very high-ranking STATE officials that some referred to as 'The 7th Floor Group' or 'The Shadow Government.'" the FBI's interview summary said. "This group met every Wednesday afternoon to discuss the FOIA process, Congressional records, and everything CLINTON related to FOIA/Congressional inquiries."
In February, a federal judge expressed dismay with State and determined that the delays in releasing the remaining of Mrs. Clinton's emails were unreasonable. On Feb. 29, all of Mrs. Clinton's emails were released — almost a year after they were received.
But that doesn't count emails from Mrs. Clinton's aides, which were also requested. The State Department said it would take 75 years to go through those roughly 450,000 emails. Seventy-five years!
"Given the Department's current FOIA workload and the complexity of these documents, it can process about 500 pages a month, meaning it would take approximately 16-and-⅔ years to complete the review of the [Cheryl] Mills documents, 33-and-⅓ years to finish the review of the [Jake] Sullivan documents, and 25 years to wrap up the review of the [Patrick] Kennedy documents — or 75 years in total," the State Department argued in a filing this June.
Yet the FBI can get through 650,000 emails in eight days.
They can't. It, too, is all political — and corrupt.
Eleven days before the election, FBI Director James Comey came under intense political fire after he decided to send a letter to Congress to inform them his agency was reopening Mrs. Clinton's email case in light of new information.
The bombshell sent shock waves throughout the presidential campaign, and sent Mrs. Clinton's poll numbers crashing.
A McClatchy-Marist Poll released Nov. 4 found a majority of voters believed Mrs. Clinton did something illegal, with 83 percent believing she did something wrong. Thirty-two percent said she did something unethical but not illegal and just 14 percent believed she'd done nothing wrong.
Mr. Comey was blasted by Mrs. Clinton's team — and multiple members of the mainstream media — for trying to sway the presidential election. There were reports that FBI agents forced his hand, threatening open rebellion if he didn't do it.
President Obama said in multiple interviews although Mr. Comey is a "good man," he may have acted improperly in alerting the public he was reopening the case.
"I do think that there is a norm that when there are investigations, we don't operate on innuendo, we don't operate on incomplete information, we don't operate on leaks," Mr. Obama said in an interview with Now This News. "We operate based on concrete decisions that are made."
So, Mr. Comey fell.
On Sunday — 48 hours before voters hit the voting booth — he said the FBI had reviewed the emails, and criminal charges wouldn't be pursued.
There's no wonder why Americans are skeptical of their federal institutions — they should be. It all needs to be burned down in order to be rebuilt.