(THIS ARTICLE IS COURTESY OF BLOOMBERG NEWS)
Putin Says U.S. Isn't Banana Republic, Must Get Over Itself
October 27, 2016 — 11:06 AM EDT u
updated on October 27, 2016 — 11:47 AM EDT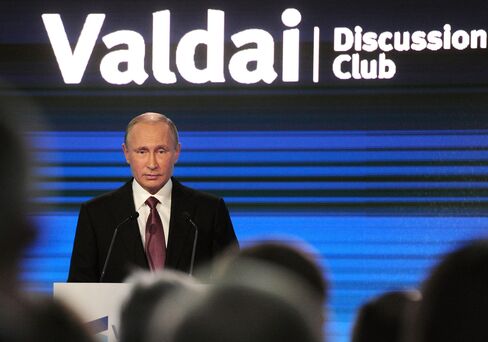 Vladimir Putin dismissed U.S. "hysteria" over alleged Russian interference in its presidential elections, saying it was impossible to influence voters' choice between Donald Trump and Hillary Clinton.
"Does anyone seriously think that Russia can influence the choice of the American people?" President Putin told the annual Valdai discussion forum of international analysts and academics in Sochi on Thursday. "Is America some kind of banana republic? America is a great power. If I'm wrong, correct me."
Amid rising confrontation with NATO, Putin insisted that Russia isn't planning to attack anyone and said it was a "myth" that it poses a military threat. The North Atlantic Treaty Organization has outlived its usefulness, while Russia wants all nations to have equal security and isn't striving for global domination, he said.
Putin spoke as tensions have spiraled between Russia and the U.S. over the conflicts in Syria and Ukraine and allegations that he's seeking to sway the outcome of next month's presidential vote. The Kremlin's role has become one of the dominant topics in the campaign, amid U.S. charges that Russian-backed hackers were behind e-mail leaks from Democratic National Committee servers that have dogged Clinton's campaign. She and Trump clashed over which was Putin's "puppet'' at last week's debate. The Republican candidate has said repeatedly that he'll seek good ties with Putin as president.Trump behaves "extravagantly, we all see it" though it's not without purpose, since he represents a "significant" section of society in the U.S. "that's tired of the elite who've been in power for decades," Putin said.
It's "complete rubbish" to say that Trump is the Kremlin's preferred candidate, which was an idea invented by supporters of Clinton, Putin said. Russia doesn't have a favorite candidate and is "by and large indifferent" about who wins the election because it'll work with any U.S. president who's prepared to offer cooperation, he said.
Complaints of Russian influence on the election are among "fictional, mythical problems that have created hysteria in the U.S — I can't call it anything else," Putin said. While the U.S. faces many "acute and urgent problems, from its colossal state debt to the rise of gun violence," it appears "the elite have nothing particular to say" about them in the elections, he said.