(THIS ARTICLE IS COURTESY OF THE SHANGHAI CHINA NEWS AGENCY 'SHINE')
476,000 call for support for HKSAR govt, police, in 'Oppose Violence, Save Hong Kong' rally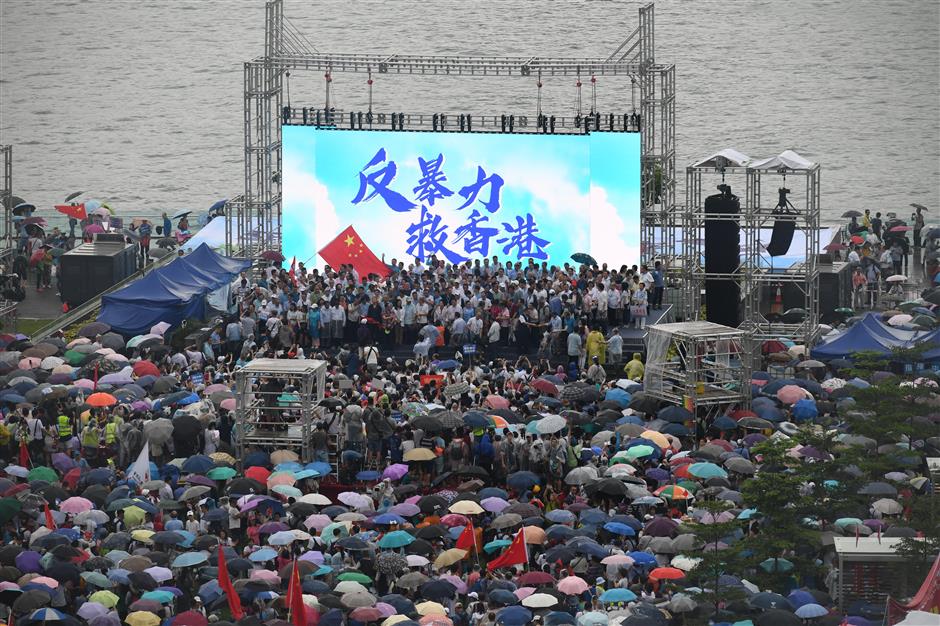 Xinhua
Hong Kong residents waved the national flag and repeated slogans like "uphold the rule of law and safeguarded Hong Kong," calling for an end to violence during Saturday's anti-violence rally.
The rally themed "Oppose Violence, Save Hong Kong" took place near Hong Kong's Legislative Council Complex. According the organizers, around 476,000 residents and representatives from all walks of life participated.
Speeches were made by family members of the police, the educational community, the government, taxi drivers and the legal community.
Organizers also made seven appeals to the public in the hope of bringing peace and order back to the city.
The appeals include stopping the endless unlawful assemblies, ending violence, preventing disruption from disturbing people's daily lives, upholding the rule of law, stopping behaviors that break society apart, and getting Hong Kong back on the right track.
Some foreigners living in Hong Kong also joined the rally.
Noting that China is a peaceful country, Peter Bently, a foreigner who said he has lived most of his life in China said "I simply want to ask why these people who are violent protesters even those are peaceful protesters, why they are afraid of China. I love Hong Kong, I love China."
Xinhua
Su Changrong, member of the National Committee of Chinese People's Political Consultative Conference from Hong Kong Special Administrative Region told CGTN, "Hong Kong is now in a serious and bad situation. I believe that the vast majority of Hong Kong people supporting our mainstream anti-violence. They support to maintain a good order and a stable environment in Hong Kong. This is for sure. My friends around me are holding such faith and expectations."
A National People's Congress deputy also said "Hong Kong's chaos has reached a dangerous level. If it continue like this, Hong Kong will suffer even more."
"We can't let the rioters bully us like this. We support our government and the police to safeguard the rule of law. This is Hong Kong's only hope. We need to unite together with the support of the motherland to build Hong Kong into a better place," Li Yingsheng told CGTN.
When talking to CGTN many Hong Kong residents also expressed their opposition to the violence of some recent protests and voiced their support for the government.
Meanwhile, in Sydney Chinese demonstrators also held a peaceful rally on Saturday voicing their support for Hong Kong authorities.
Demonstrators were heard chanting "Hong Kong is part of China." Other rallies were also held in different cities across Australia.
On Friday night, many students and other supporters of the Hong Kong authorities had already gathered for the same reason in a series of protests calling for an end to the riots in Hong Kong.
The organizers also called on Chinese-Australians to raise their voices against attempts to undermine the 'One Country, Two Systems' policy.
Xinhua
Xinhua
Xinhua
Xinhua
Source: CGTN   Editor: Shen Ke