(THIS ARTICLE IS COURTESY OF THE SONOMA INDEX-TRIBUNE)
Food: Eight tasty nights of Hanukkah
The Jewish celebration of Hanukkah is a delicious, festive holiday celebrating the miracle of a drop of lamp oil that burned brightly for eight days. Let's put Hanukkah in a modern context. It's the first night of an eight-night holiday. Your phone charge is down to 10 percent and you don't have access to a charger for the next week. Miraculously, the charge lasts for all eight days. That's Hanukkah.
This year the first night of Hanukkah is Sunday, Dec. 22. The word Hanukkah means re-dedication.
It commemorates a miraculous victory to preserve the ancient temple in which a brave family called the Maccabees prevailed over a much stronger opponent. In rededicating the temple they found only one day's holy oil, yet the holy lamp miraculously burned for eight days.
To recall this miracle each year, Jews celebrate for eight nights by gathering together to light candles on an eight branch Menorah and indulge in rich and fried foods.
This decidedly decadent tradition of eating rich and fried foods makes the holiday special. Traditional Hanukkah foods are jelly donuts, potato pancakes and rich puddings called kugels. In celebration, children play a gambling game with a top called a dreidel. Winning spins are rewarded with "gelt," delicious gold-foil-wrapped chocolate coins. Modest gifts may be exchanged each night.
My family delights in this ultra-rich and easy to prepare Noodle Kugel. It can be easily scaled up or down, may be made ahead and freezes well. Just don't substitute lower-fat ingredients. After all, it's Hanukkah.
Ultra-Rich & Creamy Noodle Kugel
Ingredients:
1/4 cup butter
8 ounce package cream cheese
4 eggs
½ cup sour cream
1/2 cup sugar
1 cup whole milk
1 teaspoon vanilla extract
8 ounce package wide egg noodles cook according to package directions
Topping:
1 cup graham cracker crumbs
1/4 cup sugar
1/4 cup melted butter
Procedure:
1. Preheat oven to 350 degrees
2. Prepare the filling: In a food processor blend the melted butter, cream cheese and eggs. Add sugar, milk and vanilla and blend well. Gently stir in sour cream to keep the body of the sour cream so it doesn't get liquefied. Transfer to a large mixing bowl and add the cooked noodles. Stir gently to combine. Pour into a greased 9-by-13 inch glass or ceramic baking dish.
3. Prepare the topping: Stir the graham cracker crumbs, sugar and melted butter together and mix well. Sprinkle over the uncooked kugel. Don't worry if it seems to sink a bit, it should rise to the top as it bakes.
4. Bake for 50 to 55 minutes, or until set. If the top browns too soon cover with foil.
Mara Kahn is a local real estate agent, co-owner of Jacob's Kitchen, the Eighth Street East culinary outlet. Mara throws a great party.
It's time to show your support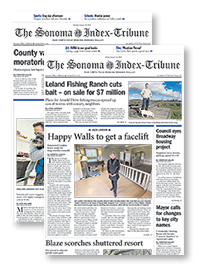 We're always here when you need the latest information. Whether it is power outages, floods, fires or earthquakes, The Index-Tribune has reporters and photographers on the scene for whatever is happening in your world. A team of editors, digital producers, printing plant employees, and newspaper carriers further helps to keep you informed — every step of the way.
This kind of committed local coverage takes an investment. Please consider, right now, purchasing a digital subscription to show your support. You count on us. Can we count on you?