(THIS ARTICLE IS COURTESY OF THE DAILY SUN NEWS)
High Tower Armory takes the Ruger 10/22 to a new level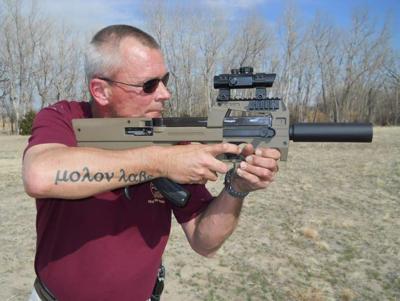 Firearms have been around for over 700 years. The oldest known firearm is a large bore pistol-style configuration that dates back to 1288. Ever since that first gun was made, people have wanted to improve them, make modifications and accessories for them.
Today, the Colt 1911, AR-15 rifle and the Ruger 10/22 are probably the firearms that have the greatest number of add-ons and accessories made for them. There are literally thousands of aftermarket products made for these guns.
Of this grouping, the Ruger 10/22 is a very popular rifle for several reasons:
(1) The rifle is well made and reliable
(2) They are inexpensive (as guns go)
(3) And they are just fun to shoot
The Ruger 10/22 is also heading for the title of "most produced" American firearm ever. A few years ago I wrote an article about the Ruger 10/22 passing a milestone of 5 million rifles made. That number is now about six million, and sales do not appear to be slowing down.
Most of the shooters I know have at least one 10/22 in their collections. Other shooters have several 10/22s, each one set up for a specific style of shooting or to just have something a bit different. This column is for those folks who want something just a bit different!
I recently ran across a company called High Tower Armory that makes a kit which reconfigures a 10/22 into a rifle that looks totally different. The High Tower Armory HTA 90/22 takes a standard 10/22 and makes it look like the very futuristic FN P90.
The FN P90 is made in Belgium and has been adopted as the primary battle rifle for at least 40 countries and law enforcement agencies around the world. It is a very short, bullpup design that works well in close quarter combat and looks like it came out of Star Wars.
Andy Wentzel, is the owner of High Tower Armory and decided to create a conversion kit that would reconfigure the Ruger 10/22 into something that went up about 20 points on the "really cool looking" scale. The HTA 90/22 is a great project for anyone who wants to have "something different" to show off at the range.
A nice compact box from High Tower Armory showed up in my mail. When I opened it I was duly impressed. Instructions were very thorough and easy to follow. Putting the kit together was very easy as well. Everything I needed was in the kit and everything fit together just like it was supposed to. Anyone that can use a screwdriver and follow directions can leisurely assemble the HTA 90/22 in a couple of hours.
The finished product has impressed everyone I've shown it to, including my occasional shooting buddy Joe Vyhnalek. I handed the HTA 90/22 to Vyhnalek and he examined the rifle.
"Wow! There is a 10/22 under all that?" Vyhnalek asked with a big grin on his face. "This is very cool!"
Vyhnalek shouldered the short bullpup design and took a look through the red/green dot scope I had added to the top picatinny rail on the rifle.
"Have you shot it yet?" Vyhnalek asked as he peered through the scope.
"Yep. It shoots a bit low and right. I haven't had a chance to zero the scope yet," I answered. "There is no recoil and it does stay on target."
Vyhnalek ripped off about 20 rounds. "I like this! How much does something like this cost?
The retail price is about $270. It might seem like a lot (basically doubling the cost of a 10/22 rifle) but it is a well designed, well built kit. I think it is worth every penny. Check it out for yourself at www.hightowerarmory.com.
Have a great weekend outdoors!