(THIS ARTICLE IS COURTESY OF THE EMPORIA KANSAS GAZETTE)
Winter storm to strike Kansas early Sunday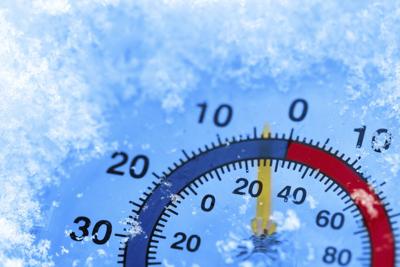 The weather has been mild for the past few days, but this weekend it stands a chance to take a turn for the wild and snowy.
Specifically, there may be a blizzard headed this way Sunday as a winter storm rolls over the state and rain turns to snow.
According to a situation report released by the office of Lyon County Emergency Management Director Jarrod Fell, a winter storm it set to move across the state Sunday bringing with it wind gusts of 30 to 50 mph along with the snow.
This blizzard will cause problems for people traveling even in areas where snow accumulation is minor, according to the report.
The storm will likely begin after midnight Sunday morning, the report said, and looks to be at its worst through the day Sunday. The storm should have moved on by Sunday evening, but while it's here it could be accompanied by blowing and drifting snow, as well as blizzard-like conditions to north, north central, and eastern Kansas.
The wind chill could hit the single digits by Sunday night, the report read.
Meteorologist Matt Miller of KSNT said the biggest impact of the storm won't be in Emporia, but on people traveling through the areas where the winter storm hits hardest.
"The biggest concern is gonna be when it comes through, we could get really low visibility because of the snow and wind combined together," he said. "It's not that we're gonna get a lot of snow out of it."
Most of the snow accumulation will likely be in far northern Kansas, according to Miller, near the Nebraska border.
"Emporia may not take the brunt of this particular storm," Miller said.
However, that doesn't mean locals shouldn't be concerned.
"Because it's on a big travel day and if it's coming down heavily with 35-40 mile an hour winds, it doesn't take much to create a white out," Miller said.
He advises people to just rearrange the time they're going to be on the road, if at all possible, so they're not traveling at the height of the storm. The snow likely won't be very deep, he said, and so if people just leave before the storm begins, they can avoid the problem. To do this, travelers would have to leave for their destination Saturday evening instead of Sunday.
The roads could also become icy with this impending winter storm, though Miller said he didn't believe there would be an ice storm.
He doesn't believe icy roads will be a big issue in Emporia.
"It might be a little bit more of a concern if people are headed north of I-70 where we get more of that freezing on the road," Miller said.
People who do plan to be driving more than a few miles this weekend — or in cold weather in general — should have certain supplies with them, he said. Miller advised people to keep a small shovel with them.
"You can dig yourself out of a lot of bad situations with a little hand shovel," he said.
This winter storm could indicate a snow-filled winter to come, if things continue as they have so far.
He said this will be the fourth snow this year for many parts of Kansas, which he called "a pretty impressive start" to winter.
"It's been a while since we had a real snowy winter and if — and it's a big if — this trend continues this is the kind of pattern we look for to give us snowy winters," Miller said. "If the pattern doesn't seriously change we'll probably end up with a snowier winter than we've had in the last few years."