1EarthUnited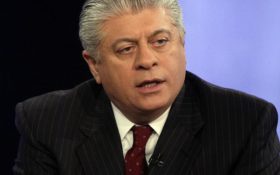 Judge Andrew Napolitano went on Fox News this past week and outlined the "three items on the plate" that are stopping the prosecution of failed presidential candidate Hillary Clinton.
These are the steps Attorney General Jeff Sessions and President Donald Trump could take to put the indictment of Hillary in motion – and the Democrats couldn't do ANYTHING to stop it.
Here they are —
1) Take action where former FBI Director James Comey dropped the ball.
"Is there anything to prevent Jeff Sessions from taking the evidence to a grand jury to see if they want to indict her? Answer: There is nothing preventing that," Napolitano said.
Not even Session's recusal from the Russian investigation would stop it, in fact.
Sessions must simply make a presentation to a grand jury and ask them to indict Hillary. There's clearly enough evidence… but first there has to be the political will.
View original post 254 more words