(THIS ARTICLE IS COURTESY OF THE GUARDIAN NEWSPAPER)
Standing in the blue-tiled shadows of one of Iran's greatest mosques, armed with a dish of sesame caramel snacks, Mohammed Reza Zamani is a cleric on a mission to repair the country's image in the west, one tourist at a time.
"Free Friendly Talks" a billboard announces in English, at the entrance to a historic religious seminary-turned-museum, in the central city of Isfahan, a former imperial capital so beautiful that even today Iranians describe the city as "half the world".
Tourism brings both money and a more positive international image for Iran, says Zamani, 36, a theology student, who is keen to ensure that visitors who might once have been alarmed by his clerical turban and robes feel welcome in his city.
"I think the moment they set foot in Iran [foreigners] find it totally different from what they expect, and their minds are changed by the people when visitors talk to us," he said, as he took a short break between explaining marriage and circumcision traditions to a group of Italians and discussing millenarian religious beliefs with a man from the Netherlands.
Iran's reformist president, Hassan Rouhani, staked his government and reputation on opening Iran to the world, sealing a nuclear deal that ended sanctions and courting foreign investment in its wake.
Rouhani was re-elected for a second term in a landslide victory last weekend, a sweeping endorsement of his policy from the Iranian people. And for many Iranians the growing flood of foreigners armed with guidebooks and selfie sticks is one of the most visible signs of change and re-engagement.
"Isfahan lives by tourists," said Masood Mohamedian, a former lorry driver who this year gambled all his savings on opening a small cafe serving traditional snacks just off the main square. "I am 100% happy with Rouhani as president."
Tourism to Iran might seem like a hard sell. The initial problem is the country's reputation, tied up inextricably for many in the west with dramatic television images of the US embassy hostage crisis from 1979-81, and the fatwa issued in 1989 against Salman Rushdie for his book The Satanic Verses. More recently, the crackdown that followed disputed 2009 elections, and arrests of figures such as Washington Post journalist Jason Rezaian, have done little to soften that image. And the country's conservative religious and social rules, which visitors must observe along with citizens, might deter some westerners.
There is little public nightlife, no alcohol, men and women cannot kiss or embrace in public, and women in particular must observe a relatively strict dress code, wearing a headscarf and covering their arms and legs. But tens of thousands of people have decided that Iran's attractions far outweigh those constraints. And Iran has tried to encourage them by easing restrictions on travel.
Europeans from countries including France, Italy and Germany, who account for the majority of western tourists, can now get visas on arrival in Tehran, and at the main sites they mingle with sightseers from China, Japan and elsewhere.
"When the sanctions were lifted, I decided to come as soon as possible," said Simonetta Marfoglia, an Italian tourist who was halfway through a two-week trip. "I had read a lot of Iranian poetry, and I am very interested in the history of the region. I am really very happy to be visiting: the people are wonderful, there is great hospitality, and it's very friendly."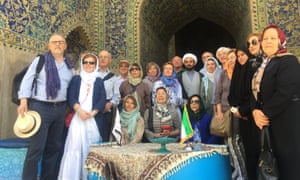 The country boasts an extraordinarily rich cultural heritage, from the ruins of ancient Persepolis to Isfahan and other historic cities, such as Kashan, Tabriz and Shiraz.
Food-lovers can feast on dishes from a sophisticated cuisine that is winning increasing recognition in the west, with dishes such as fesenjan, a rich, tart and sweet chicken stew thick with walnuts and pomegranate molasses.
There are also bazaars packed with carpets and handicrafts for shoppers, a thriving contemporary arts scene and spectacular natural beauty ranging from beaches to stark deserts and snow-capped mountains. .
Together these factors have fuelled a dramatic rise in western tourists to Iran, although the majority of its two million visitors are still religious pilgrims visiting its major shrines.
Isfahan, the jewel in Iran's heritage crown and more a destination for tourists than pilgrims, counted just over 5,000 visitors a month in 2013, when Rouhani came to power. By spring 2017 that number had risen to 85,000 in a single month, the newspaper Isfahan Today reported.
The surge in visitors has been so dramatic that some nights in high season every single hotel room in the city is taken, according to the receptionist at the newly built Zenderood Hotel.
Foreign hotel chains are eyeing the market enthusiastically, particularly since some of the biggest American players are still in effect barred. US sanctions have stayed in place after the nuclear-linked bans were lifted, leaving the field clear for European and other groups. Dubai-based Rotana Hotels is the latest firm to unveil plans for a new hotel in Isfahan, following the likes of the French chain Accor.
Spanish heritage hotel company Paradores is also looking at opportunities in the country, whose famous hotels include a former caravanserai that housed traders bringing lucrative goods to market in the 16th century.
The biggest challenge to Iran's goal of increasing tourist numbers tenfold within the decade may be the pace of change they represent, in a country where Rouhani's conservative rival still managed to garner 16 million votes in the election.
"I am unhappy about their cultural impact, because of their customs," grumbled Mohammed Paknahad, a shopkeeper in Isfahan's bazaar, who said tourists rarely bought his handicrafts. "Some of the women don't cover their bodies properly."