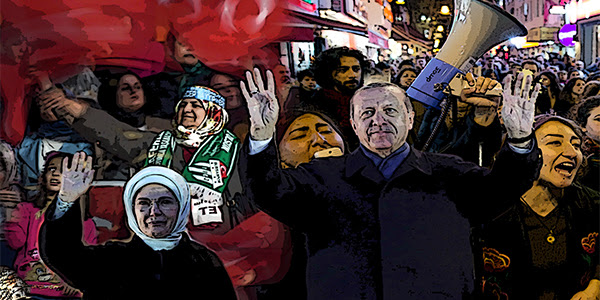 THE WEEKEND ROUNDUP 
In an era of profound cultural transformation, elections and referendums have very real consequences ― such as the repeal of environmental regulations or crackdowns on press freedom. But as much as they reveal how markedly divided societies are at this historical moment, they settle little. For those who are nostalgic for an ideal past, the challenges of a complex future wrought by globalization, digital disruption and increasing cultural diversity remain unresolved. For those looking ahead, there is no going back. The present political reaction is only the first act, not the last. It is the beginning, not the end, of the story of societies in fluid transition.
The recent Turkish referendum, like Brexit and U.S. President Donald Trump's election, fits a pattern of a territorial divide. Residents in large cities and coastal zones linked to global integration and cosmopolitan culture represented just under half of the vote; rural, small-town and Rust Belt regions linked more to the traditions and economic structures of the past were just over half. But there is also a major difference. The populist, nationalist narrative that won the day in Great Britain and the United States championed the "left behind" and splintered the unresponsive mainstream political parties. In Turkey, the day was won by a conservative, pious and upwardly mobile constituency already empowered by some 15 years of rule by President Recep Tayyip Erdoğan's Justice and Development Party. The cultural duel there, backed up by neo-Islamist and nationalist statism, will thus be more intense than elsewhere.
In an interview following the historic vote in her country, novelist Elif Shafak says, "The referendum has not solved anything. If anything, it deepened the existing cultural and ideological divisions." She also laments the decline of Turkey's long experiment as a majority-Muslim country attempting to balance culture, secularism and Western democracy. "This is the most significant turning point in Turkey's modern political history," she declares. "It is a shift backwards; the end of parliamentary democracy. It is also a dangerous discontinuation of decades of Westernization, secularism and modernization; the discontinuation of Atatürk's modern Turkey."
Writing from Istanbul, Behlül Özkan explains the details of the constitutional referendum, how the playing field was tilted in Erdoğan's favor and how it will have massive implications for Turkey's future. He also emphasizes the historic importance of Turkey's reverse. Özkan cites the political theorist Samuel Huntington who, in an essay decades ago on transitions from authoritarian rule, once defined Turkey as a clear example of a one-party system becoming more open and competitive under the constitution put in place by Mustafa Kemal Atatürk. It is rare in history to move in the other direction, as Erdoğan has now accomplished.
Also writing from Istanbul, Alev Scott believes Turkey is in for "a decade of paranoia under a modern-day Sultan" who was unnerved by the slim margin of his victory. Noting a widely circulated photograph of the president at his moment of triumph, she saw a man not "celebrating victory" but "a man alarmed by near-defeat."
Even as critics within Turkey and others abroad expressed concern over the extinguishing of democracy, Trump again showed his affinity for strongman politics by calling to congratulate Erdoğan on his victory. Yet, as with other countries from India to Argentina, there is likely another element as well to this potentially budding bromance. Sam Stein and Igor Bobic report on ethical issues raised by Trump's business ties with Turkey. In 2012, Erdoğan joined Trump and his family to mark the opening of Trump Towers Istanbul.