(THIS ARTICLE IS COURTESY OF THE GUARDIAN NEWS)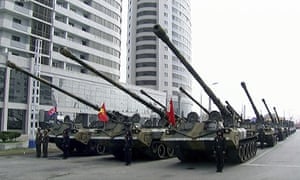 North Korea has begun a vast military parade to celebrate the birth of its founding father, Kim Il-sung, and warned that it was prepared to take the "toughest" action unless the US ended its "military hysteria", as speculation grows that the regime is preparing to conduct a nuclear test.
On a sunny morning in the capital, Pyongyang, military vehicles and tens of thousands of soldiers filled Kim Il-sung square as a band played rousing military music, the instruments falling silent for oaths of loyalty to the country's leader, Kim Jong-un.
Dressed in his trademark black suit and flanked by senior military and Workers' party officials, Kim applauded and occasionally smiled as he watched the tributes to his grandfather, who was born 105 years ago today.
But the "Day of the Sun" was clouded in uncertainty as the world waited to see if Kim Jong-un, the country's third-generation ruler, would provoke a potential regional crisis with what would be North Korea's sixth nuclear test in just over a decade, or a test launch of an intercontinental ballistic missile.
As the USS aircraft carrier Carl Vinson and its strike group sailed towards the peninsula in a show of force, North Korea's official KCNA news agency, citing a spokesman for the General Staff of the Korean People's Army, warned of "merciless" retaliation against any US provocation.
Donald Trump's decision to send an "armada" of warships to waters off the tense peninsula, coupled with recent US strikes in Syria and Afghanistan, were proof that Washington had chosen the path of "open threat and blackmail", KCNA said.
"Our toughest counteraction against the US and its vassal forces will be taken in such a merciless manner as not to allow the aggressors to survive," it added.
It said the Trump administration's "serious military hysteria" has reached a "dangerous phase that can no longer be overlooked".
It added: "Under the prevailing grave situation, the United States has to come to its senses and make a proper option for the solution of the problem."
Choe Ryong-hae, a high-ranking party official, earlier told crowds North Korea was ready for war. "We will respond [to a US attack] with an all-out war … and nuclear attacks with nuclear strikes," Choe said in a speech, according to Yonhap.
As the parade unfolded in Pyongyang, China's state-run media warned that the US president was mistaken if he believed that piling military pressure on North Korea would resolve the regime's nuclear and ballistic missile programmes.
The Global Times said Trump's decision to drop the "mother of all bombs" on Afghanistan was clearly "a new gimmick in US military deterrence" designed to intimidate Kim Jong-un.
"North Korea must have felt the shock wave travelling all the way from Afghanistan," the Communist party-controlled newspaper said in an editorial.
However, the Global Times, which sometimes reflects government views, said the use of such a "vicious weapon" was in fact likely to make Pyongyang even more determined to upgrade its own arsenal. "[Trump] has demonstrated a certain level of obsession and pride toward US military prowess," it said, adding, that the US president "may go down in history as the 'war president'".
As North Korea's only ally and biggest trading partner, China has come under unprecedented pressure in recent days to use its influence to persuade Kim not to risk conflict with a nuclear test or ballistic missile launch.
On Friday, China again called for talks to defuse the crisis. "We call on all parties to refrain from provoking and threatening each other, whether in words or actions, and not let the situation get to an irreversible and unmanageable stage," the Chinese foreign minister, Wang Yi, told reporters in Beijing.
Speaking to Russia's foreign minister, Sergei Lavrov, on Friday night, Wang said steps were needed to prevent "war and chaos" on the Korean peninsula.
US officials have said the policy of "strategic patience" pursued by the Obama administration has ended, after years of diplomatic pressure and international sanctions failed to slow North Korea's progress towards developing nuclear missiles capable of striking the US mainland – a milestone some experts believe is only years away.
In echoes of the bellicose rhetoric that reverberated around the Korean peninsula during its last major crisis in the spring of 2013, KCNA said North Korea would respond in kind to any perceived US military provocation.
Referring to the country by its official title, the Democratic People's Republic of Korea, it warned: "The army and people of the DPRK will as ever courageously counter those who encroach upon the dignity and sovereignty of the DPRK and will always mercilessly ravage all provocative options of the US with Korean-style toughest counteraction."