(THIS ARTICLE IS COURTESY OF THE JAKARTA POST NEWS)
Leader of anti-Ahok rally summoned over Dec. 2 protest
Jakarta | Wed, February 8, 2017 | 05:16 pm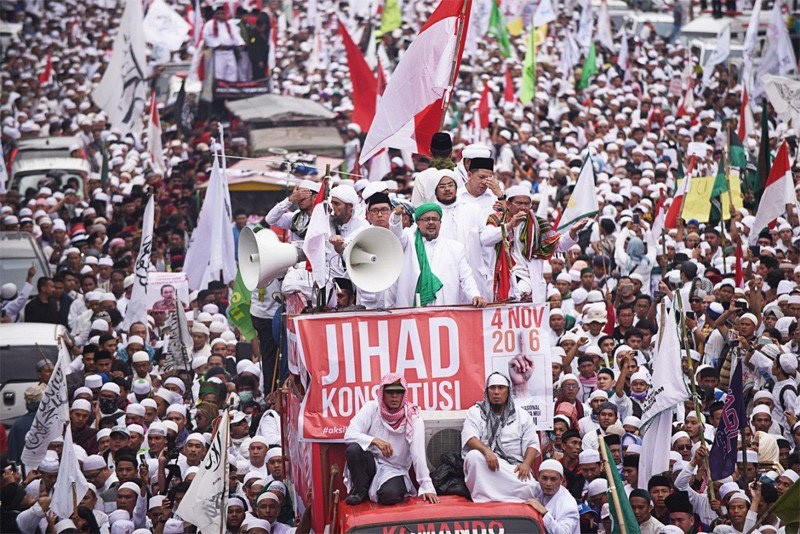 Thousands of people led by the National Movement to Safeguard the Indonesian Ulema Council's Fatwa (GNPF-MUI) stage a rally against Jakarta Governor Basuki "Ahok" Tjahaja Purnama in Jakarta on Nov. 4 over alleged blasphemy. (Antara/Akbar Nugroho Gumay)
The leader of a conservative Muslim group that has organized two rallies demanding the prosecution of Jakarta Governor Basuki "Ahok" Tjahaja Purnama has ignored a police summons scheduled for Wednesday to probe the rally's funding.
Police had summoned Bachtiar Nasir, who leads the National Movement to Safeguard the Indonesian Ulema Council's Fatwa (GNPF-MUI), as a witness in their investigation of fund-raising activities ahead of a rally on Dec. 2, suspected to be connected to money-laundering.
Bachtiar's lawyer, Kapitra Ampera, said his client was ready for the questioning but added that he had found irregularities in the summons, as it was received less than three days before the scheduled questioning.
The lawyer said that according to Article 227 of the Criminal Law Procedures Code (KUHAP), a summons has to be sent no later than three days before the questioning.
"We received the letter on Monday, Feb. 6, at 11:34 p.m. and were asked to come today," Kapitra said at police headquarters after asking for clarification on the letter.
(Read also: Rally ends on cautious note)
The GNPF-MUI, which includes the hard-line Islam Defenders Front (FPI), organized two large rallies late last year to demand the prosecution of Ahok in a blasphemy case. The first rally, held on Nov. 4, turned violent in the evening after President Joko "Jokowi" Widodo refused to meet protesters.
Police detained 11 people in the early morning of Dec. 2, ostensibly to prevent new violence, immediately charging them with treason. Protests that day in Jakarta and other regions remained peaceful. (wit)